SALTED BREAD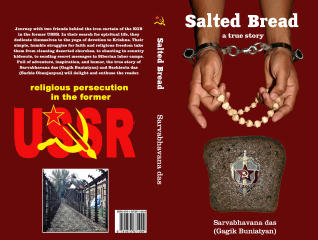 The True Story of Two Good Friends
As told to Sachisuta
(Sarkis) Buniatyan
by
Sarvabhavana das
(Gagik Buniatyan)
Sachisuta das (Sarkis Ohanjanyan) who left his body December 26, 1988

Sarvabhavana dasa

(Gagik Buniatyan)
NOTE: as of Gaura Purnima, 2007, the initial printing run has been accomplished. The book will be available through Torchlight Publishing.
Additional contact information for obtaining the book is shown below:
© DIVINE COUPLE 2007 Anyone interested on this subject
All Rights Reserved. matter may contact us at:
(Gagik Buniatyan)
Sarvabhavana dasa
Printed in India
First printing in English Phone: +91 9831770846
2005: 5000 copies Email:divinecouple@gmail.com
The following excerpts from the book are reproduced here by permission.
Two excerpts, the first excerpt "INTRODUCTION"
INTRODUCTION
This true story, which I have named 'SALTED BREAD,' is a very unusual, painful, but at the same time very encouraging story that I have heard from my father throughout my life. Sometimes, when my father would talk to his friends or our guests, they would ask him about his coming to Krishna Consciousness and how he and the other early recruits to the Hare Krishna Movement developed Krishna Consciousness in the then Soviet Union. I used to listen to him with great attention and interest all the time. He told these stories of what he likes to call his 'painful but blissful past' in many ways with different moods and emotions. Sometimes he would tell the whole thing very briefly without getting into details and sometimes (depending who was his listener and the purpose he would speak about some details for a long time). Sometimes some reporters or devotees who were writing about this subject would come to us and conversation would go on for a much longer time. Hearing over and over about my father's experiences in jail, I felt very sorry about how heartlessly police officers would torture him for no reason for as they called "illegal stuff". When I compared his past tribulations with my bedtime stories from the Vedic literatures that my Mom or Dad would tell me every day, especially about Haridasa Thakura and Prahlada Maharaja, I started to see my father in my mind and my childish heart as a hero and a very dedicated devotee of Lord Krishna.
Sometimes, I used to ask my father questions and he would tell me about his 730 days he spent in a Soviet prison and sometimes he would be so emotional that I could see his tears and sudden changes of the tone of his voice and the color of his face. I remember him becoming especially emotional when anyone was asking him about his friend Sachisuta das (Sarkis Ohanjanyan) who left his body on December 26, 1988, in one of the cruelest Russian prison camps (YU-25/B in the Orenburg Territory). My Dad and Sako (as my dad use to call him) were best friends from their childhood and they loved and respected each other very much. They were in kindergarten together, went to the same high school, they served in the Russian Army for two years and after that, they joined ISKCON - the International Society for Krishna Consciousness (also called the Hare Krishna Movement) together in Armenia. Unfortunately, due to Soviet laws, they were taken to jail soon after joining, for printing and distributing the holy scriptures from India such as the Bhagavad-Gita that were translated secretly into Russian and Armenian languages at that time.
Many people, after hearing of my fathers past, asked him to put his life story in writing, but he never had time to write it down and never even think of it since as he used to say he's (not a good writer and doesn't know if anyone actually needs to read all these painful stories). Many events have been forgotten, or as he says, no longer have the same feeling and emotions when he talks about them. But, even after so many years, what I am about to tell you is far beyond my imagination, very sensitive, sad and encouraging too. I will try my best to retell everything I have heard from my father and hope this will help my readers to become more serious about Lord Krishna's teachings and philosophy.
I would just like to add that as a result of the personal sacrifice of these early devotees, eventually the Krishna consciousness movement was registered officially in Russia and today there are more than one hundred large and small ISKCON Hare Krishna temples in the territory of the former Soviet Union.
I offer my humble respects to all those sincere souls who sacrificed their lives for these great achievements. You may ask why I named my book 'Salted Bread.' The answer is that during my father's two years of imprisonment, he used to eat mainly three slices of bread a day. All ISKCON devotees are strict vegetarians and as he describes, 'There was nothing vegetarian available in jail but bread. But, no one will be able to eat just bread by itself for a long period of time, especially bread of such poor quality. So, in order to make his mouth produce water to swallow that type of bread, he had to add salt to it.'
According to my understanding, eating bread and salt for such a long period (730 days) is a very difficult task and as you will learn from the book, this was one of the most painful experiences of all for my father. So, for that reason, I named my book 'Salted Bread.'
Sachisuta (Sarkis) Buniatyan
14 February 2003/Nityananda Trayodasi
Alachua Florida USA
And the second excerpt, a portion of Chapter Sixteen
CHAPTER SIXTEEN
BEHIND BIRTH AND DEATH
And whoever, at the end of his life, quits his body,
remembering Me alone, at once attains My nature.
Of this there is no doubt.
Bhagavad-Gita, 8.5
Slowly, slowly my days were coming closer and closer to the end. The only problem was that the closer it was coming the slower the days were going. The last days were the most difficult and seemed to go by slower than usual. One month before, they allowed me to grow my hair, so I had a little bit of hair on my head. Anyhow, I passed all the days of my sentence, one by one, and made a hole on each of the 730 days on my calendar. Finally, the next day I was supposed to come out and look at this hell from the other side and I did not know how I would feel at that time.
I was very fortunate to be released two days early which is also a big thing since you never know what can happen in one day in there, in that hell.
The 24th was Sunday and the good thing was that Saturdays and Sundays the office wasn't working so instead of me getting out from that hell on the 24th, I came out on the 22nd of January which mean 2 days, 48 hours and 2880 minute earlier from the hell.
On the morning of my release day, January 22nd , 1988, I was ready. I was sitting on my bed, waiting and looking to the speaker phone which was on the top of the long posts, supposed to call my name at any minute. Everybody was coming and saying goodbye and Hare Krishna to me. Some were joking, some were serious but it didn't matter, everyone was at least chanting Krishna's Holy Name. It was hard to believe that after just about an hour or so I won't see all those ugly fences round me.
Soon, they called my name and I was ready to leave this hellish place forever. I started to walk towards the gate with some of my friends and from time to time turned back and looked at the inmates who were looking from the windows and waving their hands. Soon from the first gate Vanya and Small embraced me and said to me Hare Krishna and good bye and returned back since the police would not allow them to walk more towards the gate. They wished me the best things and the best one was "NEVER COME BACK AGAIN". At the end of the walkway, before entering the office gate, I screamed loudly 'HARE KRISHNA!' Everyone who was watching screamed back, loudly 'NEVER COME BACK AGAINNNN!!!'
I was in an office ready to sign my liberty papers and retrieve the clothes which I gave them the day I entered this hell. Inmates are paid a little for the work they do, so that they will have some money to make a new start in life when they get out and pay for the tickets, so I was also given this. The guards were all smiling now, instead of anger, and they also told me, 'Never come back again.'
It is practically impossible to describe my feelings at that moment so I am not going to even try it. I was like a seven year old boy - running this way and that, kicking snow around and laughing loudly and calling 'Krishna Krishna.'
I prayed to Krishna,' O Krishna, I am out now and I will serve you eternally because you are my only Lord, no matter how hard you deal with me, with your servant. Thank you, Krishna, for protecting and taking care of me, Hare Krishna, but please Krishna never again bring me back to this hell again, please.'
END OF EXCERPTS - GET THE BOOK ! Email:divinecouple@gmail.com